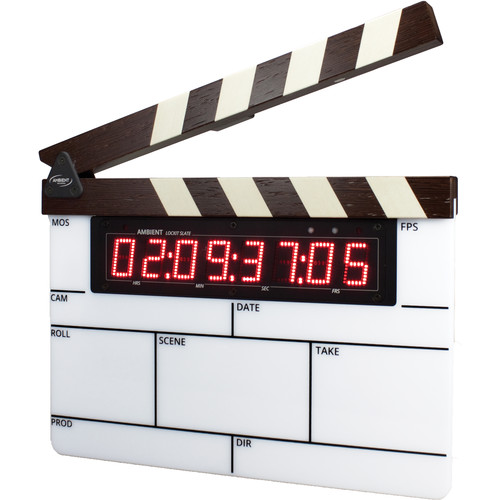 Ambient Recording ACN-LSW Lockit, Modular Timecode Slate and Display (Maple Wood)
The maple wood, ACN-LSW Lockit, Modular Timecode Slate and Display by Ambient Recording provides a rock solid, accurate, temperature compensated timecode generator. It features double the brightness with the use of four AA batteries. The slate comprises functionalities including ACN (Ambient Clockit Network) support, metadata and clap time transfer, and logging. These network capabilities also allow the Lockit Slate to be a fully functional, generator buffered timecode transceiver. This provides the stability of a Clockit generator with the flexibility of a wireless TC system but without the fear of dropouts.

In addition, it also offers a variable timecode offset to compensate for processing delays of digital cameras. Plugged in into a computer, the Lockit Slate transforms into a highly accurate MIDI time code interface with LTC / MIDI timecode conversion and a TC LED display. This way the ACN-LS opens up the possibility to sync for example, multiple cameras with a Pro Tools workstation. The user interface is easy and intuitive to use.
Thanks to the modular construction, the electronic section of the Lockit Slate can also serve as a fully functional, compact standalone display for documentary or desktop use. It is built with a USB connector, external antenna connector, LEMO 5-pin socket for timecode in, out, ASCII, tune signal, and DC-in. Housed in a machined, pearl-blasted, and anodized aluminum body, it can easily withstand rough production conditions.
Ambient ACN-LS Lockit