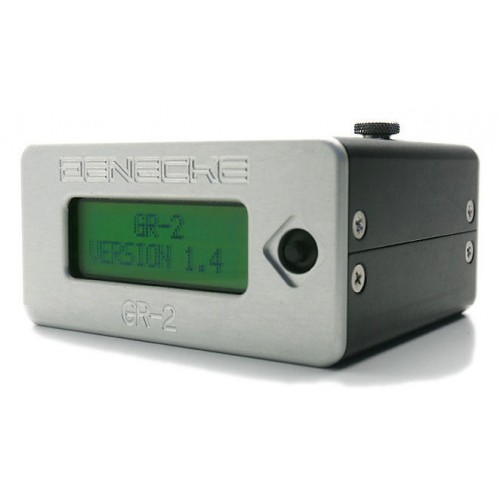 The Denecke GR-2 packs a lot of sync box into a small package. Powered by just two AA batteries, the GR-2 can display timecode/user-generated bits, mode, and frame rates on a low-power LCD display that can be pumped by a backlight in low-light situations.
Reads SMPTE/EBU time code in normal operating speeds.
Displays timecode, userbits, and frame rate.
Can sync to external time code and cross-jam different time code rates.
Generates time code at 23.976, 24, 25, 29.97, 30fps drop and non-drop
Internal clock sets time code on startup
| | |
| --- | --- |
| TC Input | 15dB @ 4.7K input impedance (LEMO) |
| TC Outputs | 2V into 1K-load impedance (LEMO & BNC) |
| Battery Power | 2 "AA" batteries (48+ hours) |
| External Power | 6-18V DC (40mA backlight on) |
| Internal Battery | CR1220 (life approx. 1 year) |
| TCXO Crystal | +/- 1PPM @ -30 to +75 C |
Denecke Master Clock GR-2